News
AREP, finalist in the competition for the new Budapest Nyugati Station
AREP, in partnership with Epítész Studio, won the second place in the international competition for the renewal of Budapest Nyugati train Station, in Hungary. This ranking, ex aequo with Albert Zimmer, confirms the place of AREP and its post-carbon vision alongside the best major international agencies.
With a soft, humble, and respectful approach for all existing communities and the environment, AREP project for the new «NYUGATI PARK» station aims to inspire and nurture Budapest's evolution towards a «calmed urban metabolism».
Much more than a technical, functional, urban, or aesthetic subject, the deep renewal of Nyugati station requires a committed consideration of the environmental issues (energy, material, climate, carbon, biodiversity) which compose EMC2B approach and questions the act of building.
AREP's ambition to design a station becoming the driving force of the ecological transition, frugal and as resilient as possible, is based on five main axes:
Bringing out the great landscape into Budapest: a major urban forest spreading over an area of 7 hectares which provides a continuous biodiversity corridor and creates urban fresh islands.
An efficient hub serving all forms of mobility, fluid and open to the city that accompanies the flow of passengers in a naturally simple way thanks to clear and intuitive wayfinding: large access ramps and multiple visual relationships allow a simple access to large and naturally lit spaces.
The reveal of the great architectural and urban qualities of the built heritage: with the restoration of the Hall, built by "Les Ateliers Français Eiffel", in 1877, the past accommodates a sustainable future where caring, maintaining, repairing and reusing, to emphasize the history by not building a "disruptive architecture".
A post-carbon station, one of the first energy self-sufficient stations in Europe, frugal in materials and enclosed-covered building: 20,000m3 of photovoltaic panels, materials bio-based or geo-based, natural ventilation and light, re-use of soil excavated.
A place to live which can host multi-functional activities (commercial, tertiary and culture) and blends with the hustle and bustle of Budapest. It provides a smooth way for pedestrians and cyclists to reach every part of the district by carefully stitching together the urban fabric.
The creation of post-carbon station became a reality in France, Europe and worldwide. The vision proposed by AREP for Budapest is also a part of the renewal movement of the European stations. This second place shows that projects leading to a fair ecological transition are today at the heart of major architectural issues.
"This international recognition gives full meaning to our mission. AREP is proud to spread its vision of post-carbon society in its projects to meet the right need at every scale. "

Raphaël Ménard, AREP President
" Sparked by the major challenges of the twenty-first century, this design was formulated to influence as an exemplary and uncompromising project from the point of view of ecological ethics: in the strong limitation of its environmental footprint, in its articulation with the "wild", with the great landscape of railway wastelands and Hungarian territories, with the living things and in its ability of adaptation face to the climate emergency."

Luc Néouze, International Director of AREP
"We are very proud to have carried this collective and shared vision resulting from deep collaborative work between architects and engineers, from France and Hungary, a vision that brings a momentum to design and a new approach for major issues of the societies of tomorrow."

Gael Desveaux, Director of AREP architecture Studio D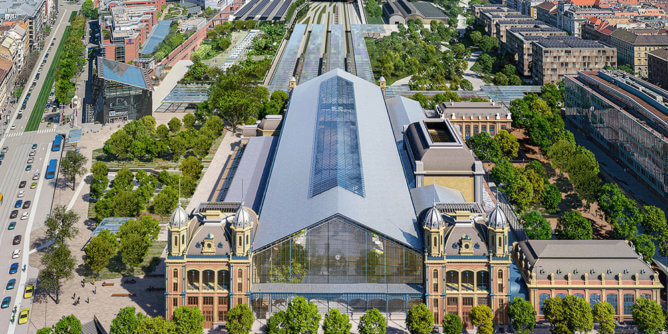 Read more about the project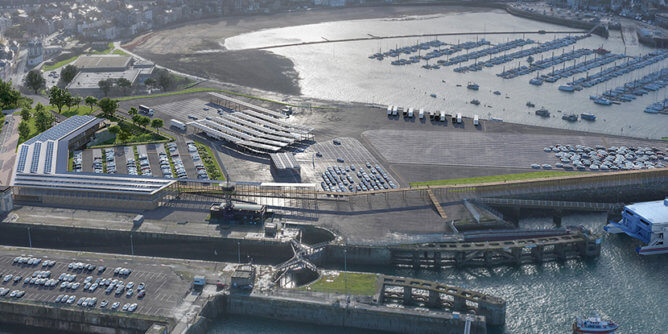 Saint-Malo ferry terminal
Read more about the project